Last month in Budapest a new statue was unveiled to a dangerous man. Right in the heart of the city – in Szabadság Tér (Freedom Place) – there now stands a monument to one of Hitler's closest allies: Admiral Miklós Horthy, the "regent" who ruled Hungary from 1920 to 1944.
The bust stands in the church of the notorious Calvinist minister Lóránt Hegedüs Jr, an incurable antisemite and admirer of the British historian and Holocaust denier David Irving. Hegedüs was the first person to bless the Horthy statue; then Márton Gyöngyösi, an MP of the extreme-right Jobbik party, addressed the congregation, declaring Horthy to be "the greatest statesman of the 20th century".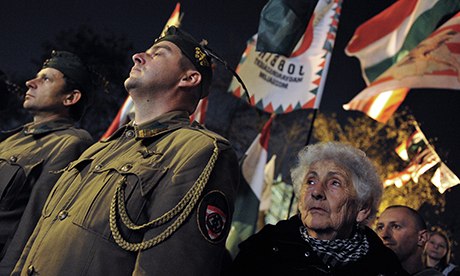 The mind boggles. Historians have taught us that the Horthy era was one of the darkest chapters of Hungarian history; this is common knowledge. His present-day glorification is scandalous. The disgraceful anti-Jewish laws, the deportation of more than half a million Jews to the death camps, sending the entire Hungarian second army to be annihilated by the Russians – all these and many other crimes are connected to him. He was one of Hitler's closest associates and stayed loyal till the bitter end. Neither God nor the radical right can ever whitewash his name.
How shocking it is that a large proportion of Hungarians ignore and deny these facts. To them it's simply an issue of freedom of speech and thought: if someone wishes to erect a monument to Horthy or to Ferenc Szálasi (the leader of the pro-Nazi Arrow Cross party, and head of state from 1944 to 1945) in their church, vegetable garden or shed, it is considered his or her private affair. Some people claim that the bust of Horthy – at the top of the stairs leading to the Hegedüs church – is, in fact, on private property.
more: theGuardian