Magyarországon az utóbbi idők változásai a kultúrpolitika és az állami ideológia keveredésének tekinthetők.
A Magyar Művészeti Akadémia (MMA), mint a kulturális terület vezető szervezete egyenlőséget tett a kulturális és politikai ideológia között, elősegítve az Európa szerte amúgy is egyre inkább elterjedő nacionalizmust és az ultra-konzervativizmus térnyerését.
A Salon in progress című kiállítás célja, hogy felhasználva az MMA által tervezett szalon kiállítások formanyelvét, valódi művészeti platformot biztosítson a kritikai megnyilvánulások és a konstruktív vita számára.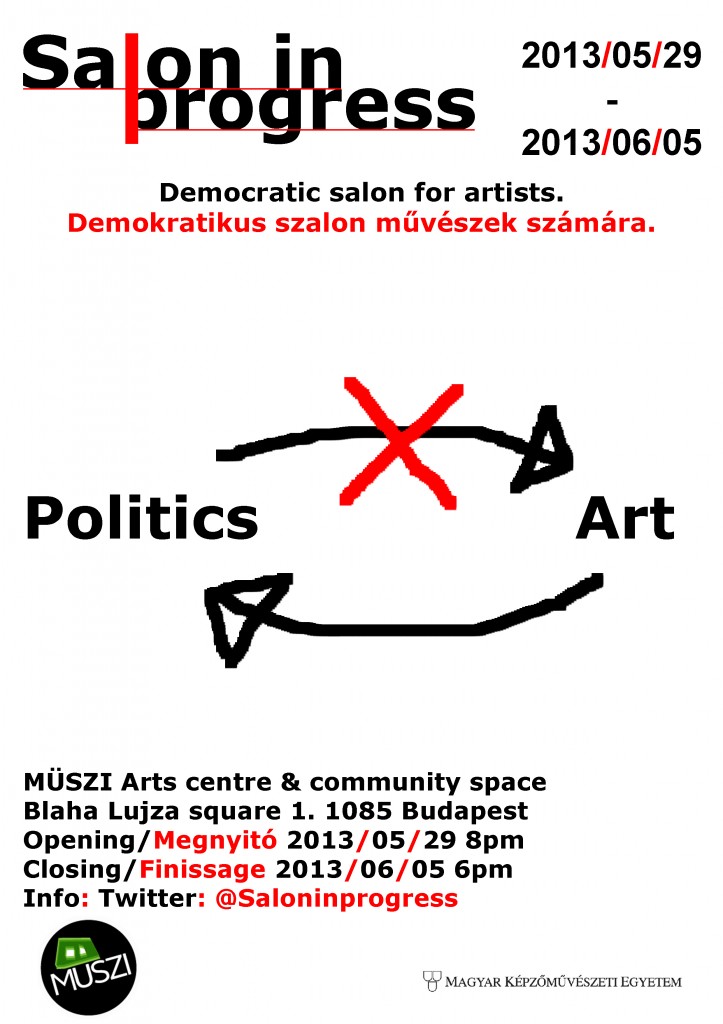 Recent changes in Hungary have seen a mixing of cultural and state policy. With the appointment of the Magyar Művészeti Akadémia (MMA) as heads of the cultural field in Hungary we can see an alignment of cultural and political ideology, a promotion of the growing uber-nationalist feeling sweeping through Europe and a regression to ultra-conservatism. Salon in progress aims open the Hungarian art world up once again as a platform for debate, criticism and development. Whilst using the formal elements of the proposed MMA salon exhibition.